PRIVACY
CONTACT
History
The first four photos and those for the years 1974 - 1979
© by Wolfgang Heilemann and used by his kind permission.
AGNETHA FÄLTSKOG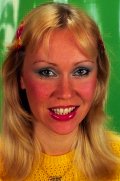 Birthday: April 5th 1950 in Jönköping

Agnetha took piano lessons at the age of 6, she had her first public appearances as a singer when she was 13. At 15, she joined the Bernt Enghardt Orchester from Huskvarna and sang to their music in towns near Jönköping. When she was 17, the band sent a demo tape with her song "Jag var så kär" to the famous producer Little Gerhard, but he was only interested in Agnetha as a solo artist.
She went to Stockholm and recorded her composition. It entered the hit charts in 1968, causing Agnetha to move to Stockholm, where she was able to visit Calle Flygare's theatre school. After her contract with Bernt Enghardt had expired, she began touring on her own, having lots of hits. Her first LP was released by CUPOL in the same year, the second one in 1969, then she met Björn in summer at a TV show.
In April 1970 Agnetha and Björn became engaged, they married July 6th, 1971 in Verum. Their children Linda (born February 23rd 1973) and Christian (December 4th 1977) are singing with her on two of her later albums.



BJÖRN ULVAEUS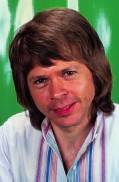 Birthday: April 25th 1945 in Gothenburg

Björn got his first guitar at the age of 12 and joined the Westbay Singers, a band at his school in Västervik. The other members were Tony Roth, Hansi Schwarz and Johan Karlberg, they toured Europe in 1963. In autumn of the same year Stig Anderson and Bengt Bernhag from the new record company Polar Music were looking for a folk band, they got a demo tape of "Ave Maria no morro", proposed the band's new name Hootenanny Singers and produced their first record "Jag väntar vid min mila". The Hootenanny Singers won a newcomer contest, signed the first record contract at Polar and had lots of hits after finishing school, the greatest being "En sång en gång för längesen".
Björn recorded solo singles in 1968 and he is working with Benny since 1969.



BENNY ANDERSSON
Birthday: December 16th 1946 in Stockholm

Just 6 years old, Benny began to play accordion and changed to piano soon. After many gigs in youth clubs he became a member of the band "Elverkets Spelmanslag".
He met Christina Grönvall and became engaged. Christina had two children, Peter (born August 20th 1963) and Helene (June 25th 1965), but they separated soon afterwards.
Benny joined the Hep Stars in October 1964 to replace the former keyboard player Hans Östlund just before their great success began. The Hep Stars were Svenne Hedlund (vocals), Janne Frisck (guitar), Christer Petterson (drums), Lennart Hegland (bass) and Benny. They brought rock music similar to the Beatles to Sweden, getting 8 golden records as the most successful band of the sixties in Sweden.
A huge tax claim caused the Hep Stars' own company Hep House to go bankrupt, and Benny started to work with Björn at Polar Music.
His son Peter Grönvall is also playing keyboard and he founded the bands Sound Of Music, Peter's Pop Squad and One More Time with his wife Nanne. One More Time's greatest hit "Highland" was engineered by Frida's son Hans. They also wrote and produced "Det vackraste", a big hit for Cecilia Vennersten in Sweden.



ANNI-FRID LYNGSTAD (FRIDA)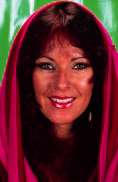 Birthday: November 15th 1945 near Narvik (Norway)

At the age of 13 Frida began to sing for a swing band lead by Ewald Ek, then she joined Bengt Sandlund's Big Band in Eskilstuna singing jazz. Frida married the band's bass player Ragnar Fredriksson and had two children, Hans (born January 26th 1963) and Lise-Lotte (February 25th 1967). After starting her own band Anni-Frid Four with Ragnar she had many appearances in Eskilstuna.
September 3rd 1967 Frida won the contest "Nya ansikten" (New Faces) singing "En ledig dag", she sang it again on the same evening on TV in the show "Hylands Hörna" and got a contract with EMI.
After separating from Ragnar she toured the Swedish folksparks with Lars Berghagen, then two years with Charlie Norman. Frida met Benny for the first time in Malmö 1969, they became engaged, but the wedding had to wait until October 6th 1978, the time when ABBA was most successful.
The first recording by Agnetha, Björn, Benny and Frida was "Hej gamle man" from 1970, released on the album "Lycka" and as a single.



ABBA'S HISTORY
Only the most important events in ABBA's career are listed in this short summary.
Detailed information can be found in many books, especially in "ABBA The Complete Recording Sessions" by Carl Magnus Palm and "ABBA The Book" by Jean-Marie Potiez. See our books section.


1964 - FIRST RECORDS
Björn joined the Hootenanny Singers. They released one or two LPs every year from 1964 to 1974 singing folk music in Swedish and English. The Hootenanny Singers provided the first hit single for the new record company Polar Music.

Benny began to play organ for the Hep Stars. After one year they produced their first LP and climbed to the top of the Swedish charts. The Hep Stars were often called the "Swedish Beatles". Until 1969 a new album was released every year.

Benny and Björn met in 1966 for the first time when both bands appeared in Linköping.



1967 - AGNETHA AND FRIDA
Agnetha's first single was recorded and became a number one hit at the beginning of the next year.
Frida released her first singles under her full name Anni-Frid Lyngstad.



1968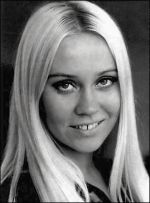 Agnethas first LP was very successful and she began to record singles in German language as well.



1969 - BENNY AND BJÖRN
After separating from the Hep Stars, Benny began to write songs together with Björn. Agnetha and Björn met each other this year, just like Frida and Benny!



1970
"Hej gamle man" was the first single featuring all ABBA members. It was credited to "Björn Ulvaeus & Benny Andersson".
Agnetha and Frida were singing on their album "Lycka" and the cooperation with sound engineer Michael B. Tretow started.



1971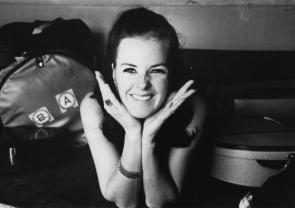 Frida's first LP and Agnetha's fourth LP were released. They recorded singles like Benny and Björn did.



1972
Björn and Benny wrote two songs for the film "Ture Sventon". Agnetha appeared as Maria Magdalena in the musical "Jesus Christ Superstar". Fridas first recording contract with EMI had expired and she signed to Polar. The single "People Need Love" was now credited to "Björn & Benny, Agnetha & Anni-Frid", featuring many of the studio musicians belonging to the team from now on.



1973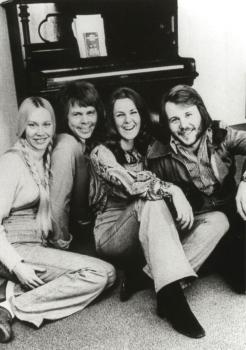 The new song "Ring, Ring" failed to win the Swedish Eurovision Song Contest and public disappointment caused the jury to be replaced by 'ordinary people'.
The name ABBA is used from now on.
English, Swedish and German versions of the "Ring, Ring" single were made.

1974 - VICTORY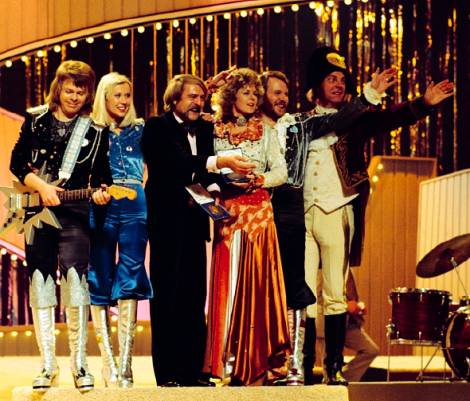 ABBA won the Eurovision Song Contest in England with "Waterloo", this was the beginning of the greatest career in Swedish pop music history. The "Waterloo" LP was released in England and America after many TV appearances.

1975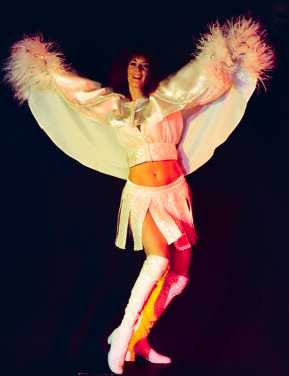 "S.O.S.", "Mamma Mia" and the "ABBA" album continued their success. Agnetha produced her last Swedish solo album "Elva kvinnor i ett hus" for CUPOL and Frida was even more successful with her LP "Ensam".
The ABBA fever reached Australia where five ABBA singles were in the Top Ten!

1976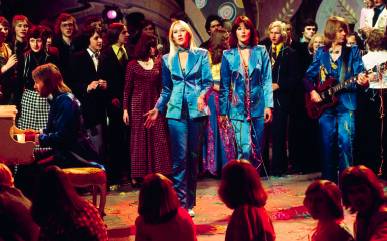 The ABBA version of "Fernando" from Frida's swedish LP sold better than any other ABBA single before.
An ABBA TV show in Australia had more viewers than the first landing on the moon!
June 18th they performed "Dancing Queen" on TV, the evening before the royal wedding in Sweden. This single went to number one in America and the "Arrival" album broke all advance order records.


1977 - ON TOUR
ABBA's first world tour began in Europe and ended in Australia, being completely sold out. More than three million advance ticket orders were received for the London concert...
Lasse Hallström directed the film "ABBA The Movie" during the Australian concerts. The new LP "ABBA The Album", finished at the end of the year, got a platinum award even before its release.

1978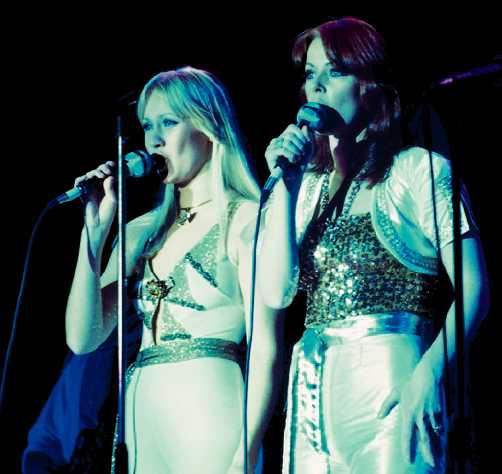 ABBA The Movie was premiered in London on February 16th. Made in wide screen format and four channel audio, it conquered the cinemas and was a little comfort for the fans without concert tickets in 1977. The Movie was number seven on the movies of the year list and was later offered on a video cassette. The new Polar studios in Stockholm, the most advanced at that time, were finished. Many demo versions of new ABBA songs were made in this year and they remained unreleased for a long time.


1979 - TOURING AGAIN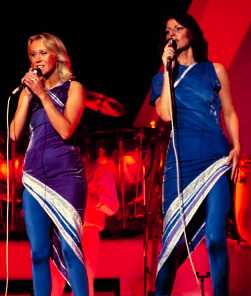 ABBA sang "Chiquitita" at the UNICEF concert in New York and a single release followed. The TV show "ABBA in Switzerland", recorded in a tent in Leysin, was shown in many countries.
Frida appeared as an actress in the Swedish movie "Gå på vattnet om du kan" (Walk on water if you can). It was directed by Stig Björkman and did not include music by Frida or ABBA.
ABBA celebrated Görel Hanser's 30th birthday singing "Sång till Görel", a 12" single with a limited edition of just 50 pieces.
ABBA's second world tour began in Canada and America after huge success of the new "Voulez-Vous" album and was continued in Europe two weeks later. Agnetha introduced her new song "I'm Still Alive", which was never released on a record up to now.

1980
In March, ABBA went to Japan to conclude the last year's tour. Agnetha and Frida recorded the LP "Gracias Por La Musica" with spanish versions of ABBA's hits.
"The Winner Takes It All" jumped to number one and the "Super Trouper" album was released.



1981
ABBA, Michael Tretow and Rune Söderqvist had a special present for manager Stig Anderson's 50th birthday: The 12" single "Hovas Vittne".
New digital equipment installed at Polar studios was used for the first time for the production of ABBA's new album "The Visitors".
Agnetha released a christmas album called "Nu tändas tusen juleljus" with her daughter Linda.



1982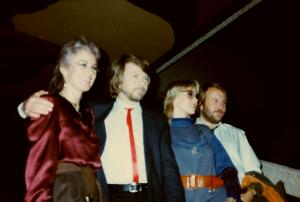 Frida's first English solo album "Something's Going On" was produced by Phil Collins.
Two new ABBA songs, "The Day Before You Came" and "Under Attack", were both released as singles and included on the double album "The Singles - The First Ten Years", a compilation of the previous singles.
Agnetha sang the duet "Never Again" with Tomas Ledin, who supported ABBA during their last tour.



1983
The first CDs were offered. "The Visitors" became ABBA's first CD, soon followed by the older albums.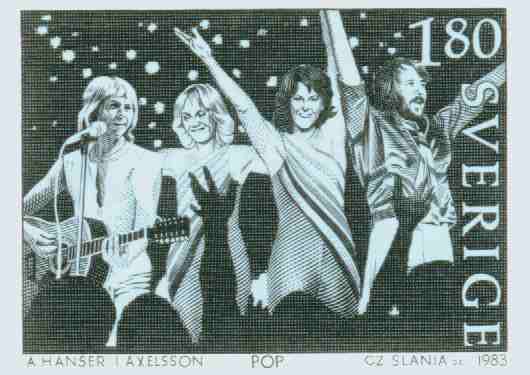 Agnetha made her first English solo album "Wrap Your Arms Around Me", a few singles and the film music for a crime comedy, the title track "P & B" plus "It's So Nice To Be Rich", only available in Sweden.
Agnetha also appeared in the film "Raskenstam" by Gunnar Hellström. She got excellent reviews, but did no further film projects until now.
An ABBA stamp was released in Sweden as part of the series "Musik i Sverige".
The ABBACADABRA musical, a fairy tale story with french lyrics to popular ABBA-Hits, premiered in France. Frida sang the part of a princess in a duet with Daniel Balavoine, this single "Belle" to the melody of "Arrival" became "Time" with B.A. Robertson in England.



1984 - CHESS
Frida's solo album "Shine" came out. One of the tracks, "Slowly", was written by Benny and Björn.
The musical CHESS written by Benny & Björn with lyrics by Tim Rice was finished and released as a double album. "One Night In Bangkok" by Murray Head and "I Know Him So Well" by Elaine Paige and Barbara Dickson became hits.



1985
Agnetha's second English solo album "Eyes Of A Woman" was released. She wrote the hit "I Won't Let You Go" together with producer Eric Stewart. Karin and Anders Glenmark, known as "Gemini", recorded the self-titled album using many songs written by Björn and Benny, including "Just Like That" which had been recorded by ABBA before.



1986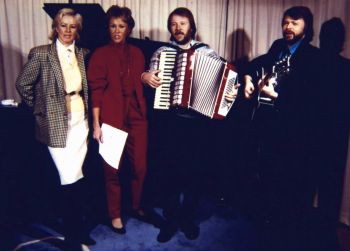 CHESS was performed in London for the first time with big success and very good reviews. It was played there for four years before going on tour in England.
ABBA's last TV appearance was in a show about Stig Anderson's life, they performed his first hit "Tiveds Hambo".
Agnetha sang a duet with Ola Håkansson, "The Way You Are" from the film "It's Time For Sweden", made for Sweden's application for the winter olympics.
An ABBA live album featuring recordings from the world tours was finally released. CBS released the compilation album "Sjung Denna Sång" with early single hits by Agnetha.



1987
Agnetha produced her new album "Kom Följ Med I Vår Karusell" singing children's songs with her son Christian. Her album "I Stand Alone" was produced by Peter Cetera in the same year.
Frida recorded the single "Så länge vi har varann" with the group Ratata, there is an English version named "As Long As I Have You".

Benny and Björn composed the title song for the fantasy film "Mio my Mio" based on a book by Astrid Lindgren and sung by Gemini. The film was a Swedish-Norwegian-Sovjet co-production directed by Vladimir Grammatikov. More Songs by Benny and Björn were included on Gemini's second album "Geminism".
Benny produced his first solo album "Klinga Mina Klockor". Frida was part of the background choir.



1988
CHESS was performed on Broadway in New York, but without big success. Benny played the accordion on a record with the folk music band Orsa Spelmän (Mono MMCD 002).



1989
Benny's second solo album "November 1989" was finished. The track "Stockholm By Night" is from the film "Den hemliga vännen" (The secret friend). "Målarskolan" is music from a TV series.
He received a Grammy award in Sweden for this record.



1990
Stig Anderson sold his record company Polar Music and the rights to ABBA's music to Polygram.
Benny produced the CDs "Fiolen Min" with Swedish folk music (again with Orsa Spelmän) and "Fågelsång i Sverige" (Bird songs in Sweden, Mono MMCD 006). This CD included bird songs recorded by Lars Svensson, the drawings in the booklet were done by Dan Zetterström.
Benny and Björn started to work on an new musical based on the "Utvandrarna" books (The Emigrants) by Vilhelm Moberg.
Benny wrote the theme music for the world equestrian championships called "Upp till kamp", sung by Tommy Körberg.



1991
The Ainbusk Singers recorded "Älska Mej", written by Benny.
Björn and Benny wrote "Beatrice" for Kalle Moraeus, a member of Orsa Spelmän. Early songs by Frida were re-released on the CD "På egen hand".



1992 - THE BIG COMEBACK
After successful re-release of "Dancing Queen" as a CD single, Polygram released the CD "ABBA GOLD", a compilation album with hits digitally remastered by Michael Tretow. This CD was listed on many hit charts in Europe for more than one year! More ABBA CD singles followed.
Frida sang "Money, Money, Money" at a Roxette concert in Zürich and, later that year at the Stockholm Water Festival, "Änglamark" and "Saltwater". Björn and Benny came on stage to perform "Dancing Queen" together with U2 in Stockholm.



1993
"Tre kvart från nu" was the title of a second CD with early solos by Frida. Björn and Benny produced the album "Shapes" by Josefin Nilsson, one of the Ainbusk Singers, featuring new songs written by Björn & Benny.
Frida, Benny and Björn were rewarded with five platinum CDs for the success of ABBA GOLD (5 million copies sold) by Polygram in Stockholm. The follow-up "More ABBA GOLD" was the first record with a previously unreleased ABBA song: "I Am The City"!
Three tracks by the Ainbusk Singers were released on CD single by Mono Music. Frida sang an a-cappella version of "Dancing Queen" together with "The Real Group" on Swedish TV at Queen Silvias 50th birthday before christmas.



1994
Agnetha's christmas album was re-released as part of the CD "Julens Musik" together with other christmas songs, including two by Frida and by the Hootenanny Singers.
"The Voice of ABBA" was the first CD release for three single B-side tracks by Agnetha and Frida.

In autumn, the 4 CD box set "Thank You For The Music" was released.
A big sensation were previously unreleased ABBA songs: "Put On Your White Sombrero", "Dream World" and the studio medley "ABBA Undeleted" with 15 demo recordings, including a part from "Just Like That"!



1995 - KRISTINA
Many Swedish songs never released on CD before were included on "ABBA På Svenska".
Benny & Björn's new musical had its premiere on October 7th in Malmö. It is called "Kristina från Duvemåla" and it is about Swedish emigrants coming to America. The leading characters are played by Helen Sjöholm, Anders Ekborg, Peter Jöback, Åsa Bergh and Marianne Mörck. Agnetha's daughter Linda has a small part as well and ABBA fans from all over the world went to the premiere to see Agnetha, Benny and Björn. Praised by the public and critics, the musical was immediately sold out to the end of its run.



1996
On February 9th the new permanent exhibition was opened at the Music Museum in Stockholm. "Kristina från Duvemåla" moved to Göteborg on April 13th. The Swedish song for the Eurovision Song Contest in Oslo was "Den vilda" by One More Time, it made the third place.
Frida's new Swedish solo album was released in September. "Djupa andetag" became the Swedish chart's number one at once. Agnetha's double album "My Love, My Life" with many old songs never published on CD before came out together with her book "Som jag är".

"Kristina från Duvemåla" was performed in Minneapolis, USA on the 12th of October in Swedish. A triple CD is now available from Mono Music and the musical returned to Malmö.



1997
Benny became "Composer of the year" at the Swedish Grammy Award gala in february, the "Kristina från Duvemåla" triple CD became "Album of the year". All the ABBA CDs were digitally remastered and released in March.
After the last performance of the musical in Malmö, the rebuilding of the Cirkus theatre on the Djurgården island began in summer for the Stockholm premiere in February 1998. More than 100 000 tickets were sold out on the first day they were offered. The translation of the musical began and the English language premiere will probably be in the United States.

ABBA's ex-manager Stig Anderson died of a heart attack on September 12th.
EMI released the double CD "Frida 1967-1972" including her former EMI single tracks plus five bonus tracks from radio and TV appearances. All of her Swedish solo singles are now available on CD.

Just before christmas Björn announced that an ABBA musical (working title Mamma Mia) featuring ABBA's greatest hits is planned to premiere in London in 1999!



1998
"Kristina från Duvemåla" premiered in the Cirkus Theatre in Stockholm on February 14th with great success.

Agnetha's new CD "That's Me - The Greatest Hits" included "The Queen Of Hearts", a previously unreleased English version of "När du tar mig i din famn". After huge demand from ABBA fans via the Internet this song was even released as a CD single in some countries!

The "B & B" concerts in Gothenburg and Stockholm were a huge success. About 60 000 people have seen the tribute to Benny and Björn's music featuring Helen Sjöholm, Karin and Anders Glenmark, Tommy Körberg, Orsa Spelmän and the Gothenburg Symphony Orchestra and choir. A live CD "Från Waterloo till Duvemåla" recorded in Gothenburg was ready for the performances at the Stockholm Globen where the audience cheered as Benny came on stage to play accordion and piano during the final concert.



1999 - 25 YEARS - MAMMA MIA
This year is ABBA's 25th anniversary marked by many special releases. A remastered ABBA GOLD with autographs printed on the cover came out in March. "ABBA The Collection" is a box with 3 CDs/MCs, a booklet and a video cassette, "ABBA Singles Collection" is a tin box with remastered CD issues of 29 ABBA singles in a 20 000 piece limited edition. ABBA returned to the top of the hit charts in many countries.

The ABBA musical "Mamma Mia!" premiered in London's Prince Edward Theatre on April 6th, the day when ABBA won the Eurovision Song Contest 25 years ago. The story written by Catherine Johnson is about the relationship between a mother and her daughter trying to find out who her father is. 22 ABBA hits fit perfectly into a funny story featuring Siobhan McCarthy, Lisa Stokke, Louise Plowright, Jenny Galloway, Hilton McRae, Paul Clarkson, Nicolas Colicos and Andrew Langtree as the main characters. After getting excellent reviews, "Mamma Mia!" is breaking all records, the audience keeps singing along and tickets are very hard to get now.

"Kristina från Duvemåla" came to an end in June. More than one million have seen this musical up to now. Further "B & B" concerts are held in European cities, one even in Shanghai.
Michael B. Tretow's funny album "Let's Boogie" with the ABBA members as studio musicians is finally available on CD.
All four ABBA members were singing birthday greetings at Görel Hanser's 50th in June.
The Nordic Museum in Stockholm opened a larger, temporary ABBA exhibition in November, with instruments, costumes, golden records and collector's items. A slide show with lots of photos by Anders Hanser from the new book "Från ABBA till Mamma Mia!" is also there.

A*Teens, a teenage group from Sweden, released an album with ABBA covers. The "Mamma Mia!" original cast recording came out and topped the musical charts in the UK and USA. "I Have A Dream" sung by the Irish boy group Westlife was number one of the UK hit charts at christmas!



2000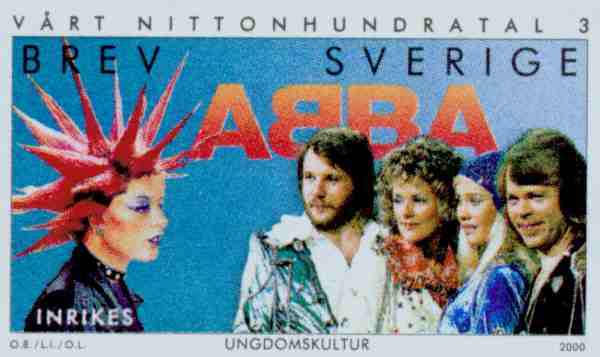 The A*Teens are a big success and lots of other bands copy ABBA all over Europe.
A new ABBA stamp was released in Sweden in March. It shows a picture from the Eurovision Song Contest.
The musical CHESS went on tour in Germany, Austria and Switzerland for the first time. It is a Polish-German-Austrian co-production with songs in English and the dialogue in German.

"Mamma Mia!" premiered in Toronto, Canada on May 23rd. Frida, Benny and Björn attended the show. In November the musical began to tour the USA.
ABBA were offered one billion US$ for a reunion, the highest offer an artist ever got in history. ABBA said no.
Benny wrote the soundtrack for Roy Andersson's film "Sånger från andra våningen".



2001
Björn announced that "Mamma Mia!" might come to Sweden in 2002. The musical starts to play in Australia.
A concert version of "Kristina från Duvemåla" toured Sweden in summer.
Benny's third album "Benny Anderssons Orkester" came out in June.

All eight ABBA albums were digitally remastered and re-released in August, including some bonus tracks.
About 200 objects from Frida's private property were auctioned on September 29th, including furniture, clothing (even from the ABBA times), paintings, jewellery and household items. The proceeds were given to a Swiss home for handicapped persons.
"Mamma Mia!" premiered on New York Broadway on October 18th.



2002
The Swedish staging of "Chess" premieres at the Cirkus in Stockholm on February 23rd and Mono Music releases the double album in the end of October (Chess på Svenska, MMCD 019).

"Mamma Mia!" has its German premiere at the Operettenhaus in Hamburg on November 3. The musical comes to Tokyo as well.

Agnetha is preparing to record a new album.
Frida recorded the duet "La Barcarolle" together with the opera singer Filippa Giordano. It was released in Japan only on Filippa's double CD "Il rosso amore deluxe" (WEA WPCS-11411).

Carl Magnus Palm's ABBA biography was translated into German, called "Licht und Schatten".

The first ABBA DVD "The Definitive Collection" featuring all video clips plus a photo gallery was released.



2003
"Mamma Mia!" premiered in Las Vegas. Frida and Benny were there. The musical came to Holland as well. Benny and Björn won the 2003 National Broadway Theater Award for best score.

Chess in Stockholm came to an end, but a DVD was released in November.

Frida recorded "Lieber Gott" and "I Have A Dream" together with the Swiss artist Dan Daniell. Both songs were published on CD single and later on his album "Liebe ist..." (BM363-03-022).

Benny played a new song during the summer tour with his orchestra and began working on a new album.

"ABBA Gold" was released on DVD.



2004
Many ABBA re-releases accompanied the 30th anniversary of the Eurovision victory, with bonus tracks or included DVDs. "Live in Concert" was released as DVD "ABBA in Concert" and a funny video with ABBA dolls was made for the Eurovision Song Contest, with short appearances by the real members.

Agnetha released her new solo album "My Colouring Book" in April!
She sings pop songs from the 60's in English and was interviewed for a TV programme.
Sony released the box "De första åren - Agnetha Fältskog 1967-1979" with all solo recordings in Swedish on 6 CDs.

"Mamma Mia!" premiered in South Korea in January. The hit musical celebrated its 5th birthday on April 6 in London. Frida, Benny and Björn came on stage after the performance!
Mamma Mia! had its second German premiere in Stuttgart, Frida and Björn attended. A German cast CD was recorded by the Hamburg cast.
The musical is played in Madrid from November on.

Benny released the album "BAO!" with his orchestra and Helen Sjöholm.

New books were presented, a very large one by photographer Wolfgang Heilemann and two by Carl Magnus Palm.



2005
All four ABBA members came to the Swedish Mamma Mia! premiere at the Stockholm Cirkus on February 12! The ensemble recorded a CD at Mono Music as well.
The musical is also staged in Belgium.

Agnetha's "My Colouring Book" got a platinum award in Sweden.

A restored version of "ABBA The Movie" is released on DVD with surround sound and bonus disc in September.

Björn, Hansi Schwarz and Tony Roth of the Hootenanny Singers surprised the audience with the song "Marianne" at the Visfestival in Västervik.

The Gemini album with old songs written by Benny & Björn is finally released, with a previously unpublished song.

ABBA won the Eurovision Song Contest's 50th anniversary TV show in Copenhagen. "Waterloo" is now the most popular winning song ever!

A box set including "Frida Ensam", her three solo CDs after ABBA plus one DVD (also sold separately in Sweden) is released.

Universal Music announced a box set "ABBA: The Complete Studio Recordings" with 9 CDs (all studio recordings), 2 DVDs (all music video clips, a documentary and a TV concert) plus two books with all lyrics and many photos. The box is released at Christmas in limited edition.



2006
ABBA The Movie won the Swedish Grammy Award for the best DVD.

"ABBA Greatest Hits" and Benny & Björn's "Lycka" are re-released as CDs. A 30th anniversary Deluxe Edition of "Arrival" including a DVD and "ABBA Number Ones" (CD or DVD) follow.

Benny Anderssons Orkester released the live album "BAO på turné".

Mamma Mia! won 5 "Gold Mask" awards in Sweden and came to Moscow in October. A large book "Mamma Mia! How can I resist you?" by Benny, Björn and producer Judy Craymer is published and the hit musical will become a movie in the end of 2007.

A huge ABBA Museum is announced, planned to open in Stockholm in June 2009.



2007
Mamma Mia! is played in Gothenburg by the Stockholm cast.
The filming for the Mamma Mia! movie began in London and Greece.
In Germany the musical is simultaneously staged in three cities for the first time, in Hamburg, Stuttgart and Essen.

Universal released a double CD with old hits in May, featuring lyrics written by Stig Anderson.

Instead of going on a summer tour, Benny Anderssons Orkester give big concerts at the Stockholm Globe and the Gothenburg Scandinavium in autumn.
Their third studio album "BAO 3" with Helen and Tommy is released.



2008
Benny Anderssons Orkester wins a Swedish Grammy Award for "BAO 3".
Their hit "Du är min man", sung by Helen Sjöholm, breaks a record with 4 years on the Svensktoppen charts!

Mamma Mia! The Movie premieres in London on June 30 with huge success.
All four ABBA members appear together in public at the movie's Stockholm premiere at the Hotel Rival on Mariatorget!

A digital version of ABBA The Movie returns to the cinemas across Europe.

"ABBA Gold" and the Mamma Mia! Soundtrack reach the top of the charts, Mamma Mia! The Movie is released on DVD.

The karaoke video game "Singstar ABBA" is available for the Playstation.



2009
The opening of the Stockholm ABBA Museum is postponed due to problems with the renovation of the building. The new company Touring Exhibitions will go on a world tour with the ABBAWORLD travelling exhibition instead.

Agnetha and Frida accept the newspaper Aftonbladet's lifetime achievement award "Rockbjörnen" for ABBA in January.

Benny Anderssons Orkester go on a summer tour with Helen and Tommy and release the English language album "Story Of A Heart".

Helen Sjöholm, Russell Watson, Louise Pitre and Kevin Odekirk perform at a Kristina concert event at the Carnegie Hall in New York on September 23 / 24.



2010
Frida and Björn attend the opening of the ABBAWORLD travelling exhibition in London on January 26.

ABBA are finally inducted into the Rock and Roll Hall of Fame in a ceremony in New York. Frida and Benny thank the audience and the fans and Benny plays the piano.

Benny is asked to write a song for the wedding of Crown Princess Victoria of Sweden to Daniel Westling. "Vilar glad. I din famn" with lyrics by Kristina Lugn is performed by Orsa Spelmän, the Swedish Royal Philharmonic Orchestra and two choirs in the church just after the wedding ceremony.

ABBAWORLD comes to Australia in June. Agnetha and Benny send a video message for the opening. The exhibition moves on to Hungary in December.

Frida records "Morning Has Broken" for the album "Reconnection" by Swedish artist Georg Wadenius.

Agnetha and Björn attend the Danish premiere of Mamma Mia!



2011
Benny opens his new recording studio RMV (Riksmixningsverket) next to Mono Music on the other side of the tennis court and records the new BAO album "O klang och jubeltid" there. It receives a gold award and Swedish TV shows concert footage from the summer tour at Christmas.

The travelling exhibition ABBAWORLD comes to Prague in May.

ABBA City Walks take place in Stockholm from this year on, an ABBA City Map showing 20 places included in the tour is released as well.

Benny and Björn prepare a Finnish production of Kristina från Duvemåla to be staged in Helsinki in 2012.

After 15 years, the permanent exhibition at the Stockholm Music Museum from 1996 with the ABBA corner we helped to set up is closed again.



2012
Agnetha receives the ELLE Fashion Legend Award in January.

Kristina från Duvemåla premieres in Helsinki in February.

Benny und Björn begin to write songs for the new musical "Hjälp sökes" to be staged in Stockholm in 2013.

Agnetha begins to work on a new album.

May 7, 2013 is announced as the opening date for ABBA The Museum. It is built on Djurgården next to the Gröna Lund amusement park. The first exhibition items are shown at Stockholm's airport Arlanda.

Benny Anderssons Orkester release the new Christmas CD "Tomten har åkt hem" and the box set "BAO in Box" with 6 CDs and 2 DVDs, including all of their music recorded so far.



2013
The new Swedish musical "Hjälp sökes" with music by Benny and Björn and animals on stage premieres at the Stockholm Orion Theatre in February. A CD is published in September.

After many TV interviews, Agnetha's new single "The One Who Loves You Now" is released on March 11, her album "A" on May 10. In November Agnetha performs a duet with Gary Barlow for "Children in Need" in London.

On May 6/7 ABBA The Museum opens in Stockholm! Frida, Benny, Björn and many celebrities attend the gala. Agnetha is in London to promote her new album "A".

Benny and his son Ludvig start the company RMV Film to produce a fantasy movie, they will take care of the music as well.



2014
ABBA - The Choir performs with Benny in the court of ABBA The Museum in April.

Mamma Mia! premieres in Helsinki in September, Kristina från Duvemåla starts a Göteborg run again.

In September the double album "ABBA Live At Wembley Arena" with 25 live tracks, the whole concert from November 10, 1979 is released on CD and LP.

A Deluxe Edition of CHESS is released with a DVD and bonus tracks.

A special ABBA-themed edition of the board game Monopoly is presented.



2015
The Swedish fantasy movie "Cirkeln" with Benny' music premieres at the Berlin film festival, Benny and Ludvig attend. Later it goes up to number 2 on the Swedish movie charts.

Four life-size replicas of the ABBA members dressed in costumes from the 1979 world tour are shown at ABBA The Museum. Ingmarie Halling becomes the museum's director.

In summer the restaurant "Tyrol" in Stockholm's amusement park Gröna Lund is rebuilt to a Greek taverna for the upcoming "Mamma Mia! The Party".

Ludvig Andersson marries his German girlfriend Milana Schoeller in Munich in October and Benny is there.

Kristina från Duvemåla premieres again in Stockholm in September.



2016
On January 20 Mamma Mia! The Party opens in Stockholm. All four ABBA members attend! They come on stage for a short time. The party is a live dinner show in a Greek taverna with the staff presenting ABBA hits.

To celebrate the 50th anniversary of Benny and Björn meeting for the very first time, all four ABBA members attend the party on June 5 and sing "The Way Old Friends Do" on stage!

Universal Music announces a cooperation of ABBA and the British music producer Simon Fuller, who plans to present virtual, digital versions of the ABBA members soon.



2017
The filming of the second musical movie "Mamma Mia! Here We Go Again" with the old cast and some new actors begins this year.

ABBA The Museum prepares a new exhibition "Post ABBA" about the time after ABBA.

Benny records a solo album "Piano" released in September. It includes piano versions of ABBA, CHESS, Kristina and BAO tracks.



2018
On April 27 two new ABBA songs are announced: "I Still Have Faith in You" and "Don't Shut Me Down" !
They have already been recorded and the first one is planned to be performed by virtual, digital versions of the ABBA members in a BBC TV show in 2019. Later they will be available on record as well.

The musical movie "Mamma Mia! Here We Go Again" premieres in July.



2019
A new greatest hits CD "Bästa Låtarna" by Benny Anderssons Orkester, Helen Sjöholm and Tommy Körberg with two new songs is released in summer.

Benny says in a Swedish newspaper interview that the Avatar Tour will happen 2021 or later and the two new ABBA songs are not finished yet.