PRIVACY
CONTACT
The Musicals

After ABBA broke up, Benny & Björn began to write musicals. Here they are:

Chess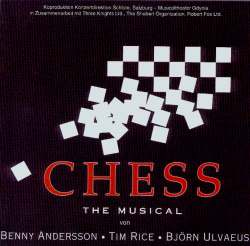 The first musical written by Benny & Björn was released on double CD in 1984 (RCA PD70500) and had its premiere in London's West End in 1986.

A live double CD was produced in Gothenburg: Chess live in Concert, Mono Music 1994, MMCD 010-2.

After the end of the cold war, the political dimension behind the story was not longer up to date, but the interest in Chess grew again with the ABBA revival.




After many stagings and concert performances all over the world, Chess finally came to Germany on February 5th, 2000. ABBA-
came to the premiere and did a long interview with the actors which was published in issue No. 30.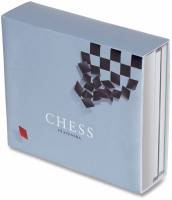 A Swedish version of Chess came to Stockholm's Cirkus Theatre. The premiere was on February 23rd, 2002. The main characters were played by Helen Sjöholm, Anders Ekborg, Tommy Körberg, Josefin Nilsson and Per Myrberg.

The double CD "Chess på Svenska" was released by Mono Music in the end of October 2002 (MMCD 019).
Mono Music has now released this double album also as a Multichannel Hybrid SACD with the catalogue number MMSACD 019, including the same tracks and the same booklet as the standard edition. These discs will give improved surround sound on special SACD players and some DVD players with surround system outputs, but will play on standard CD players as well. Check your equipment's manual for compatibility and keep in mind there was a Swedish Chess DVD released in November 2003 and a TV broadcast in Sweden on January 1, 2004.


Our Finnish correspondent Ulla Riihinen sent us her review:
CHESS Premiere at Cirkus, Stockholm, 23 February 2002
References to Expressen and Aftonbladet (24.2.2002)
Many thanks again to Paul Carter from England, who allowed us to show some of the pictures he took there.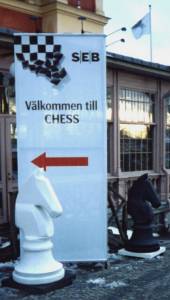 After the heavy snow storm the day before, Saturday, the 23rd of February, turned out to be a perfect day also weatherwise for the Swedish Chess premiere. A large group of fans from around the world had gathered at Cirkus. Benny arrived at the theatre about one and a half hours before the show. Mona Nörklit, Benny's wife, was carrying a video camera to record the meeting between Benny and the fans. About thirty minutes after Benny had come, Björn arrived, looking sharp and excited, with his younger daughter Anna and her friend. He was very friendly, talking to fans, giving numerous autographs. The atmosphere outside the theatre could be compared even with the ABBA-hysteria in the 70's. Maybe the fans weren't as many as they could have been then, but there was definitely "something in the air" that Saturday afternoon. Guests began to arrive. Right before the show would start, the famous people arrived, among them were spotted, for example, Lena Ulvaeus, Emma Ulvaeus, Christian Ulvaeus, Claes af Geijerstam, Peter Grönvall (without Nanne), Marie Fredriksson with husband, Per Gessle with wife, Lasse Berghagen (Allsång på Skansen) with wife, Eva Dahlgren and Efva Attling, Wenche Myhre (Anders Eljas' date), Mona Sahlin from the Swedish parliament, Lia Boysen (Anders Ekborg's wife), Marie Nilsson (Josefin's sister) and Tim Rice.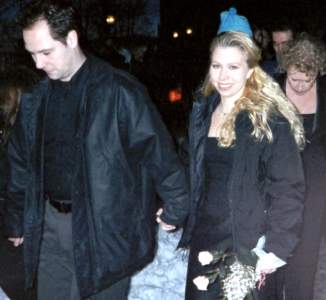 Expressen gives four points out of five. Their point is that the development of the characters lifts up the musical, which once experienced some difficulties (referring to the Broadway). Chess is a strong musical, and at times it can bring tears to the spectators' eyes. The love story between Florence and Anatolij is strong, evident, engaging - even poetic. There is new music, new arrangements. Helen Sjöholm shines like a star on stage, she sings wonderfully. Tommy Körberg is said to make his best musical role ever. Anders Ekborg succeeds as Freddie, hurt and beaten. Josefin Nilsson can play a very frustrated, jealous wife.

Expressen had interviewed Benny and Björn. Björn said he was very proud of the ensemble and what they had accomplished. He had been nervous before the premiere, as always when he does something of this size, so he was of course relieved to see everyone enjoyed the musical. Benny agreed. He adds that they did the right thing with having less of the cold war and more of the love story. The change makes the musical more emotional and gives it more depth.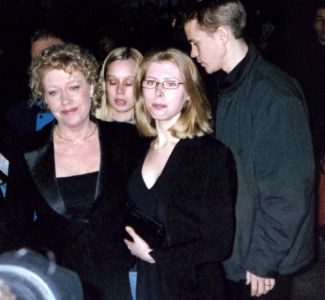 They both agree that the new Chess is the best of the three (London and Broadway being the other two) versions. They confirm the rumour about taking Chess back abroad: there are plans to translate the musical back into English (Björn and Tim Rice) and possibly take it back to England and the USA again, why not even Canada.

Aftonbladet gives full five points. The headline praised that "Chess" is now better than ever. The highlights according to the newspaper were Körberg's "I mitt hjärtas land" (Anthem), Ekborg's "Vem ser ett barn" (Pity the Child) and Sjöholm and Nilsson's duet "Jag vet vad han vill" (I Know Him So Well). The reporter appreciates Björn Ulvaeus' excellent Swedish lyrics. The scenery and stage setting are also mentioned as excellent. The best scene is a part of the duet between Florence and Anatolij, "Du och jag" (You and I). While the couple stares at the stars (?), not singing, there are two trapeze artists doing a breathtaking performance high above the stage. There is less chess, as the musical concentrates more on love and politics, which is a good thing.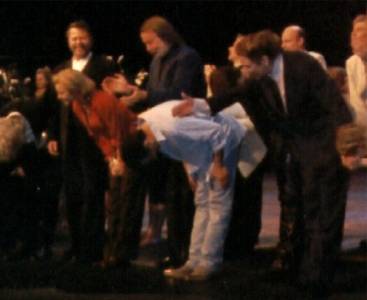 As the final song, "Du och jag" reached its end, the sold-out Cirkus was ready to jump up and give standing ovations. Benny and Björn came to the stage together with the whole ensemble to receive flowers. The opening night of the Swedish Chess was a huge success. According to the ticket sales, it seems like Benny and Björn have once again been able to create something special and enjoyable.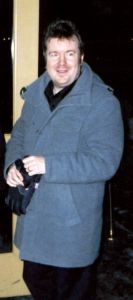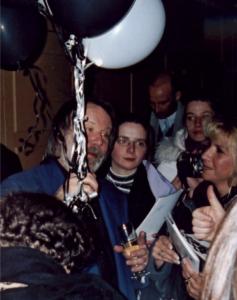 Photos © Paul Carter
---
Kristina från Duvemåla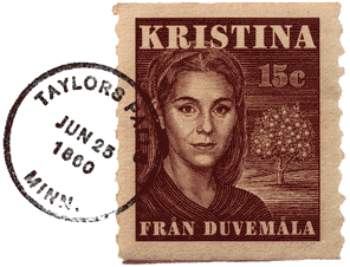 Sweden's most successful musical based on Moberg's 'Utvandrarna' books (The Emigrants). It took Benny & Björn almost six years to create this masterpiece. The Malmö premiere on October 7th, 1995 featuring Helen Sjöholm, Anders Ekborg, Peter Jöback, Åsa Bergh and Marianne Mörck attracted lots of ABBA fans. A triple CD release by Mono Music became album of the year in Sweden in 1997, Benny received a Grammy Award and more than 100,000 tickets for the Stockholm staging were sold on the first day!
Kristina från Duvemåla performances take almost 4 hours and a fascinating impression is created by the very simple stage decoration which is put together and modified by the actors as the story moves on.
Triple CD release: Mono Music MMCD 011 (1996)


News:
The English translation is finished now! It was written by Herbert Kretzmer, who did "Les Miserables" as well.
We don't know about any staging plans so far. Benny confirmed the musical will come to the USA one day.
---
Mamma Mia!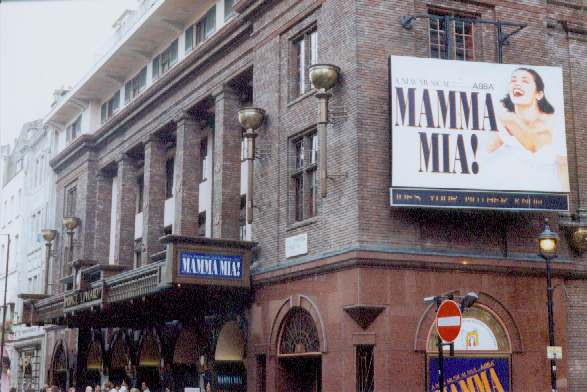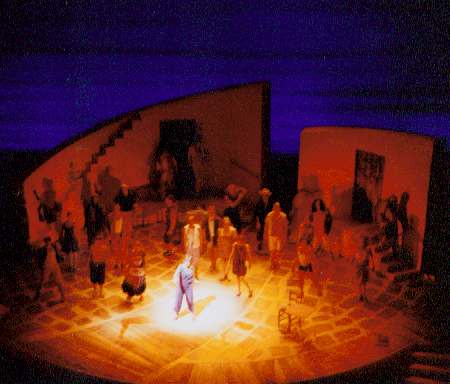 Millions of fans were dreaming about a musical with ABBA's hits until it finally premiered at the Prince Edward Theatre in London on April 6th in 1999, the 25th anniversary of ABBA's victory at the Eurovision Song Contest. Mamma Mia! combines ABBA's music with a funny story about a girl trying to find out who her father is.


Every performance of Mamma Mia! is sold out, but there is a chance that a few tickets might have been returned. Many larger travel agencies have a number of tickets reserved. Ask there for Mamma Mia! ticket & travel offers or check out the online ticket sale on the official page:

Official Mamma Mia! Page
Official German Mamma Mia! Page
Mamma Mia! in Sweden

The Original Cast Recording from the first London performances was released in 1999.
Polydor 543 115-2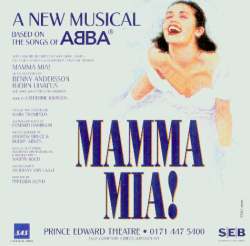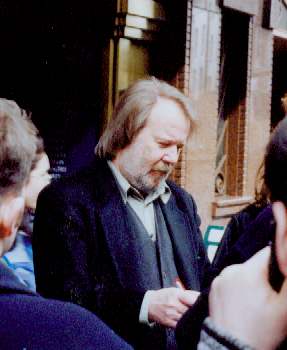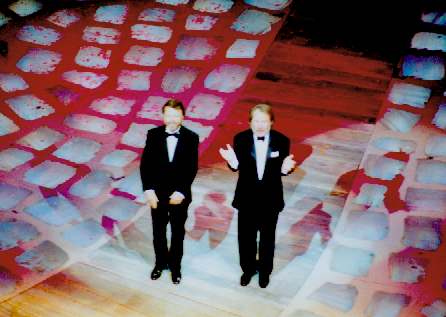 Paul Carter allowed us to use some of his photos taken at the New York Broadway Premiere of Mamma Mia! here. Many thanks!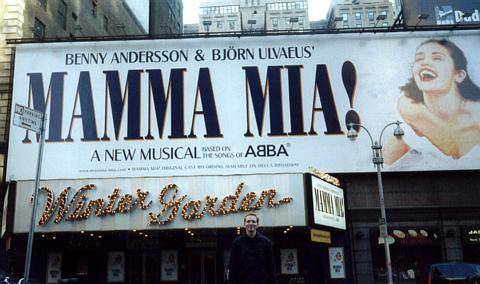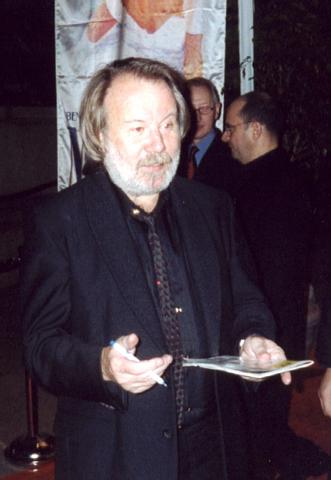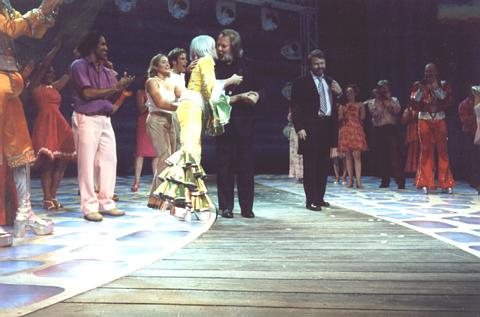 Photos © Paul Carter


Since November 3, 2002 Mamma Mia! is being played at the Hamburg Operettenhaus in Germany as well. All lyrics and dialogues have been translated into German.
Here are a few pictures from Hamburg: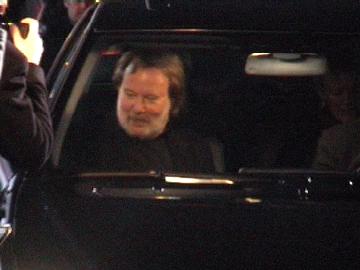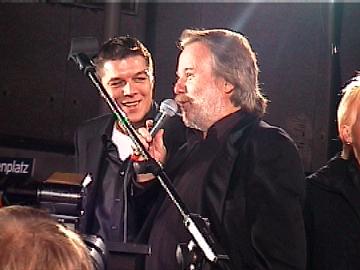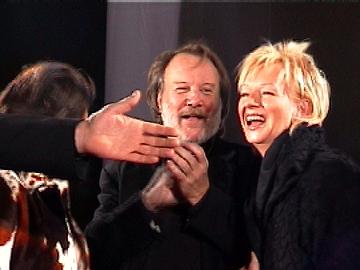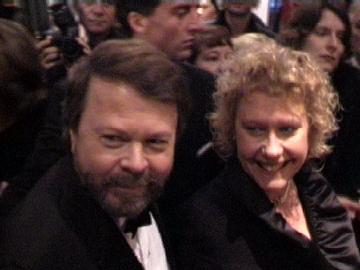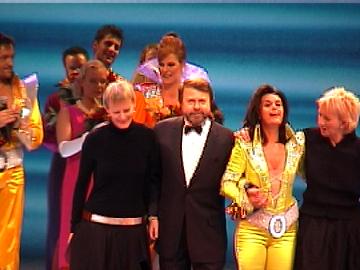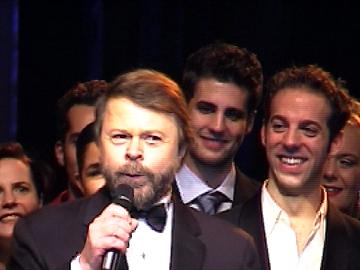 Photos © Regina Grafunder



The German Mamma Mia! Fan Preview was a great success.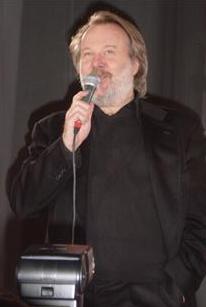 The Operettenhaus theatre in Hamburg was covered by a huge "gift wrap" and was unveiled on October 19, 2002 by Benny, Judy Craymer, Phyllida Lloyd and Carolin Fortenbacher ("Donna"). Björn was expected to appear at the Fan Preview, but he unfortunately couldn't attend for "various reasons", as Benny told NDR TV. Hundreds of fans were waiting for Benny's arrival in front of the Operettenhaus. He drove up in a limousine, tumultuously welcomed by the fans. Benny made a short speech and also Phyllida Lloyd and Judy Craymer addressed a few words to the cheering crowd. You can read the whole speech below.

Then Benny disappeared into the Operettenhaus and the theatre was opened to the public after a short time. Hidden from the public, Benny was interviewed by NDR TV presenter Bettina Tietjen (broadcast on November 2 on NDR). I (Regina) was very lucky to be present during this interview and to talk a few words with Benny. He signed his picture from 1969 (from the Hep Stars era). He laughed at it immediately, called Judy Craymer over and told her to have a close look. He said to us "Now you know why I have a beard!" He interestedly looked at the brand new
I gave him. Then the door was opened for the press photographers. Many photos were taken and short questions were asked. Even Bubi Heilemann was among them!

I asked Benny for a photo together with him before he went into the auditorium. He put his arm around my shoulder and kissed me on the cheek!!! I don't have to tell you that I believed I was in a dream ("I have a dream....") It was just great!! As you might see on the photo,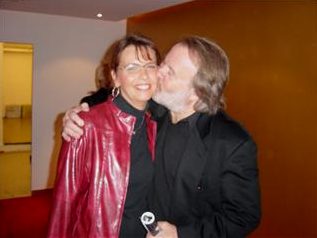 Benny is holding the
Nr. 37 in his hand!

Shortly before the curtain for the German Mamma Mia! performance went up, Benny with Judy Craymer and Phyllida Lloyd sat down in the middle of the audience. They immediately got standing ovations from the fans . Benny was visibly amused and touched and he applauded back towards the audience!

We were all excitedly expecting the performance. I had very mixed emotions because I could not imagine hearing this musical all in German. I never quite liked German covers of ABBA songs in the past. But after the first minutes all doubts were gone. The whole musical was just perfect! The German songs masterly harmonized with the dialogues. The lyrics had been translated into German as close to the original as possible, but always in a way to fit the German language and not to appear kitschy (for example "Thank you for the music", not "Danke für die Musik" but "Danke für die Lieder" in German). Original, funny and happy!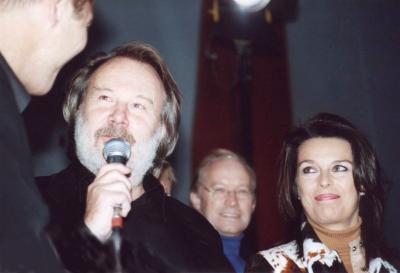 Even the cast was a wonderful choice. Katja Berg played a convincing Sophie and Carolin Fortenbacher a fantastic Donna. The voices were very expressive and harmonized perfectly with all other main and supporting roles. A huge compliment to the whole cast!!! Not to forget the orchestra of course, who gave the ABBA tunes a modern touch without neglecting the original. I think many other spectators shared my feelings because it was the very first time I experienced standing ovations during the performance in a musical!!!! Of course there were long standing ovations and curtain calls after the performance. As an encore they sung "Dancing Queen" and "Waterloo". Although the audience kept on calling for encore for some more minutes, the curtain did not rise any more and unfortunately Benny did not come on stage. On the other hand, Benny stayed until the end and he was visibly touched. One fan reported that he had tears of joy in his eyes during the "Dancing Queen" encore.

After this excellent performance, the Operettenhaus invited the whole audience to the After Show Party at the Café Keese. But this Café was not the best choice, it was far too small for all the guests. The presentation also was not that good or rather hard to understand. The cast showed up about 1 1/2 hours later and disappeared in the rear part which was cordoned off. Compliments go to Stephan Köhn, who was involved as a DJ and encouraged many visitors to dance.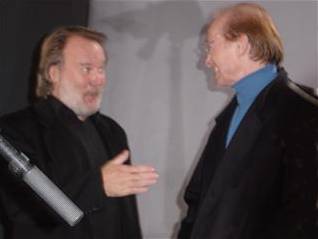 I would like to say a big thank you to all
members and friends I was able to invite to the NDR shootings just before the Fan Preview. While Bettina Tietjen interviewed Stephan Köhn or Michael Kunze for instance, we could be live in the background. Many thanks to all who spontaneously agreed to perform a short clip of an ABBA song and sang "Thank you for the music" together later on. It was really big fun with you and I was very happy that we even were allowed to stand inside the cordon during Benny's speech after the TV shots!



By the way, all of you should see Mamma Mia! in Hamburg. I will certainly go a few more times and I'm sure it will run for many successful years!




Mamma Mia! Premiere in Germany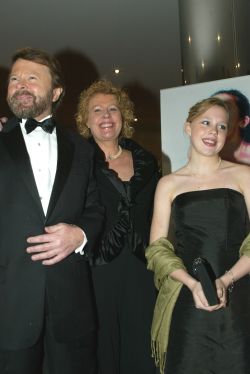 The German Mamma Mia! Premiere on November 3, 2002 was a giant success. Mostly specially invited guests came to the premiere - celebrities from all over the country. The media fuss was huge - in spite of the rain, journalists, photographers and several TV crews gathered in front of the Operettenhaus half an hour before the doors were opened. Stage Holding gave away white and blue Mamma Mia! umbrellas, so you didn't get completely soaked.

The opening was at 3:30 PM. More and more German celebrities arrived and finally Björn came with his wife Lena and daughter Anna just before 5 PM. He was closely "protected" by the Stage Holding staff so you unfortunately had no chance to approach him. All the guests took their seats in the theatre and Björn and his family sat down shortly before the curtain went up. He immediately got applause and standing ovations from the audience.

The Mamma Mia! performance was very good. All actors seemed to be very concentrated and did an even better show than two weeks before at the fan preview. Only a few details were changed since the preview. Unfortunately on the premiere day the audience was not as relaxed as with the preview. There was thundering applause after the songs, but the audience laughter so often heard during the preview was more suppressed. The German celebrities had a great evening anyway and were enthusiastic about the show. During the interval, TV and radio interviews were done all the time - and many spoke respectfully about the timeless ABBA songs and the brilliant musical. Everyone agreed that the best idea was to translate the whole musical into German. If the dialogue had been in German and the songs in English, it would certainly not have been such a big success. All the guests kept on saying how surprised they were that everything harmonized so perfectly in German.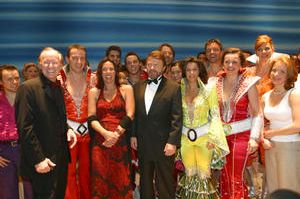 During the second act, the audience behaved the same as in the first act. But nobody could stay on his seat during the finale. The whole audience stood up, applauded and danced during the "Mamma Mia", "Dancing Queen" and "Waterloo" encores. The performers were carried away by the enthusiasm so the really gave their best for these three songs. You could see how the tension of the premiere disappeared and they simply enjoyed the show - fantastic!

All persons involved in the making of the show came on stage at the end, like Phyllida Lloyd, Judy Craymer..... and finally Björn, who got most of the applause. Everyone agreed: This musical will be a complete success even in German language!!!

After the premiere performance all the guests were invited to the premiere party in a gigantic marquee which had been built at the Spielbudenplatz especially for this event. The whole Mamma Mia! cast presented themselves on a small stage again. Phyllida Lloyd, Judy Craymer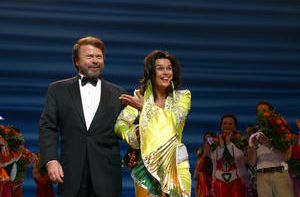 and Björn made a little speech.

Then the cast, the creative team and the invited guests celebrated the premiere success until early morning.


At the party I could talk with cast members and Judy Craymer. All of them were happy about the great success and seemed to be relieved about the German language performance which went down so well. In the beginning, the actors were slightly irritated because the spontaneous laughter of the premiere guests was not as frequent and loud as it was during the preview two weeks before. Judy Craymer agreed that the audience was in a better mood during the preview. But the doubts were gone when the "stiff" celebrities finally let themselves go at the finale!!!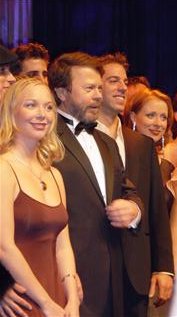 Naturally, it was especially exciting to see for Judy Craymer how the musical would be accepted in Germany as it was presented in a different language for the very first time. Mamma Mia! will premiere in Japan in December in Japanese and according to Judy next year will see Mamma Mia! in Dutch. Moreover, the musical will come to Las Vegas next year. There would be plans to take Mamma Mia! to Russia some time, but nothing has been set at all, Judy said.



You will find more premiere photos in our ABBA
fan club issue No. 38 and on this page.

More Mamma Mia! Preview/Premiere photos are at www.abba.de as well.

Björn told Swedish paper Expressen there will be no film version of Mamma Mia! in the near future.

This is the Mamma Mia! track list with German titles in alphabetical order:


Chiquitita
Dancing Queen
Does Your Mother Know (Wenn das Mami wüßt)
Gimme! Gimme! Gimme! (Gib mir, gib mir, gib mir)
Honey, Honey
I Do, I Do, I Do, I Do, I Do (Ich will, ich will, ich will)
I Have A Dream (Mich trägt mein Traum)
Knowing Me, Knowing You (Ich bin ich, du bist du)
Lay All Your Love On Me (Leg dein Herz an eine Leine)
Mamma Mia
Money, Money, Money
One Of Us (Einer von uns)
Our Last Summer (Unser Sommer)
Slipping Through My Fingers (Und durch meine Finger rinnt die Zeit)
S.O.S.
Super Trouper
Take A Chance On Me (Komm und wag's mit mir)
Thank You For The Music (Danke für die Lieder)
The Name Of The Game (Was ist das für ein Spiel?)
The Winner Takes It All (Der Sieger hat die Wahl)
Under Attack (Unter Beschuß)
Voulez-Vous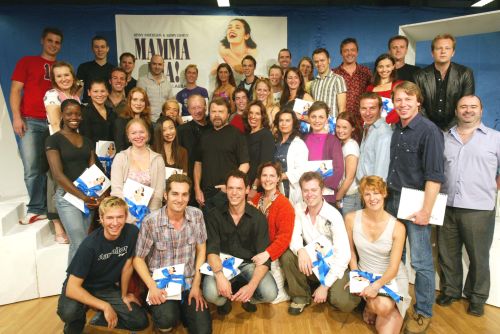 We promised to write down the interview and speeches at Mamma Mia! in Hamburg.

First we have the speech held at the Operettenhaus opening ceremony before the fan preview on October 19, 2002:

Maik Klokow (Stage Holding): What a day, what a day! A big welcome to Judy Craymer, the producer of Mamma Mia in London, the one responsible for a theatre piece on our stage....
Carolin Fortenbacher, the leading actress of Mamma Mia here in Hamburg.....
Yes, I don't think I need to introduce this gentleman, I hope you'll get a big welcome.... Benny Andersson, one of the Bs of ABBA!
Unfortunately Björn Ulvaeus is not here today, but we welcome Michael Kunze, who did the translation of the lyrics....
And we also have directress Phyllida Lloyd here today, the direction is really brilliant, we can see her standing on a stage right now, welcome! Of course it's also a bit about ABBA and a bit with ABBA, because it would be nothing without music! The piece lives from the real story as well and I'm happy that Benny will address a few words to the fans, it's a fan preview today, yes Benny.... let's talk!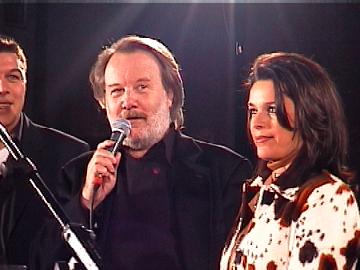 Benny: Actually, I speak a bit German, but I'm too shy.... Please excuse my bad German, but I'm very happy to be here.... (cheers) All those songs, which have always been in Swedish or English, now in German.... (he continues in English) OK, sorry, see what I mean... but I'm very glad to be here and I think to be a part of this thing, opening a new theatre or an old theatre into a new refurbished one, is quite wonderful... and also I must tell you I'm here as a stand-in for Björn Ulvaeus who can't come for different reasons. So this is actually what he usually does when I'm not there, he comes here and I'm here instead of him. I think I have to wish you all good luck in there, and you people, if you come to see the show, I hope that you will enjoy it!! (applause)

Klokow: Benny, may I ask you, do you like Hamburg, do you have any relationship to Hamburg?

Benny: I've been here, I don't know, 49 times? And I think the relation between Germany and Sweden is very close. You can almost walk here from Stockholm! (laughter) We Swedes have a lot to relate when it comes to Germany, the whole country, especially up here in the north of Germany. When I come here it's like coming home, everything, they way you look, we are very German in Sweden. And we all love to speak German when we are young, but we forget it when we get older.

Klokow: Sorry, I can't speak Swedish, otherwise I would of course ask you some questions in Swedish. I would like to ask Judy Craymer to come over to the microphone now, after more than 10 years she finally made the dream possible to produce a musical with ABBA's hits and I'm very pleased that Judy believed in us and is producing Mamma Mia together with us here at the Operettenhaus on the Reeperbahn!

Craymer: Thank you, I stand for production and I'm sure some of you have already seen it. Hands up who's seen it already! Anyway, I've seen the production here already and it's fantastic and we have a wonderful cast here, a brilliant Carolin. It's gonna be great fun and I'm very proud to bring this big hit to Hamburg.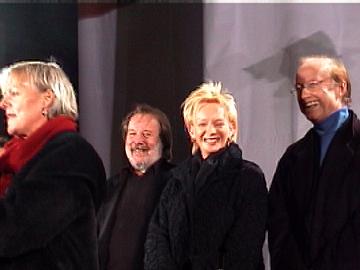 Klokow:
Thank you very much! Phyllida, I'm now working as long as 17 years in the theatre, I saw a lot of pieces, a lot of directors coming and going, and a lot of nice but as well worse plays on stage and after the first time I saw Mamma Mia I thought, who was so creative to make this thing happen, the cast and the right direction to be a really nice and surprising musical and I found out you are the person and I read in your CV that you're producing as well next time Wagner's "Nibelungen", it's a broad thing what you are doing!


Lloyd:
Yes, both shows are about lost parents of course. I know it's a fantastic theme show, we've had a brilliant writer, Catherine Johnson, to work with and a fantastic translator, it's German Ruth Deny and I think staging the show here in German has been a big excitement for us.


Klokow:
I have to translate it: .... I'm happy that we're not only welcoming the creative team, but we're also having a second big event, we're going to open a house which had a quite plain life for a very long time. I'm being told we all should come a bit closer together for taking some photos.... Not only that we have a really great show, I've seen it yesterday evening and it's really extraordinary, very extravagant with a lot of assistants, a new theatre for the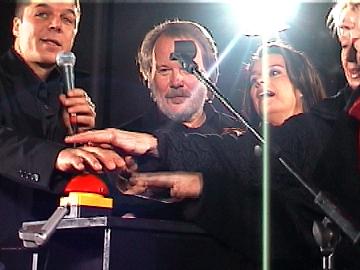 premiere and it will be opened tonight, not by someone but by our audience, which we're paying most tribute to and we have to thank for our success. We already mentioned the translation, Michael Kunze translated the lyrics and Ruth Deny the second part, the dialogue. A very extravagant and wonderful comedy you can see here at the Operettenhaus. OK, I hope all the pictures are taken now. I think we will now go over to the opening ceremony. Benny, Carolin, Judy, Phyllida - let's put our hands on the red button and we count back from 5 to 1: It's 5 - 4 - 3 - 2 - 1 (the white "gift wrap" curtain falls down, red fireworks are launched from the roof, applause, ABBA's "Gimme! Gimme! Gimme!" is played, the doors are opened) And now here we go! Into the new theatre!


This is the Benny interview by TV host Bettina Tietjen. The complete interview, including the parts not shown on TV, was printed in our ABBA-
fan club magazine No. 38!

Tietjen: We are so proud to have you here, Benny, because I was told you never give interviews because you are shy. Is that true?

Benny: No!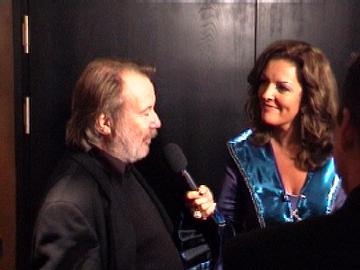 Tietjen:
And why do you never give interviews?
Benny:
Because I don't like them!
Tietjen:
But now you will like it, I hope...
Benny:
Yes, I'm standing here! I'm trying to avoid it, I mean, we spent so many years with ABBA, doing so many different things over a ten year's period, photo sessions, interviews, trying dresses, so I said to my friend Björn, I'll support you, but I will not do this, which I'm doing right now!
Tietjen:
But how does it feel to see this together, your songs and the story of this musical?
Benny:
You know, it's gonna be very interesting tonight because all the songs, they were always in English and the idea with the show from the beginning was to connect the songs and the original lyrics with the story. So all the connections come into the songs with the lyrics. Now all the lyrics are translated... well, it's... sehr spannend! (very exciting)
Tietjen:
Oh, I was going to ask you if you speak a little bit of German... More than "sehr spannend"?
Benny:
Ja, ja!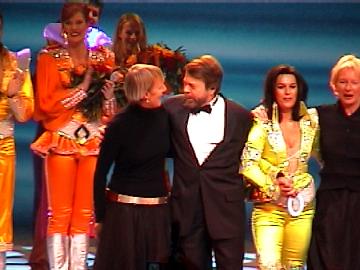 Tietjen:
You know my colleague Eva Herman, she is a little bit like Agnetha, she is a little bit in love with you. Could you say something for her in German?
Benny:
Eva - with an F? Hej Eva!
Tietjen:
She looks very good, that's true. Benny, you are so famous. How does it feel to be so famous?
Benny:
I was famous!
Tietjen:
No, you still are! You know that!
Benny:
I don't know! It's like... it's a part of life. Of my life. I don't know how it is not to be famous. I don't know what that is. It's been like that since I was 18 years, in a rock band. I don't mind. It's a good life!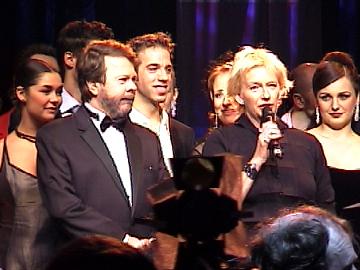 Tietjen: And how did you manage to stay on earth, to stay like you are?

Benny: Because I'm Swedish!

Tietjen: What does that mean... compared to being English or American?

Benny: It's almost like being German.

Tietjen: Thank you so much! Do I remind you a little bit of Frida if I do like this? (She bends her knees a bit and swings her blue satin dress)

Benny: No, no, please stand up! More like that!

Tietjen: Thanks a lot!



And finally the speech held in the huge tent after the premiere on November 3, 2002:

Judy Craymer: Hi everyone! Thank you for coming tonight. We're very proud of this production - and thank you Hamburg for making Mamma Mia so well done. Little did I know when we opened the show in London three and a half years ago that here we would be in this wonderful tent, thank you all - can we borrow it for Las Vegas next year? I have to thank, and I know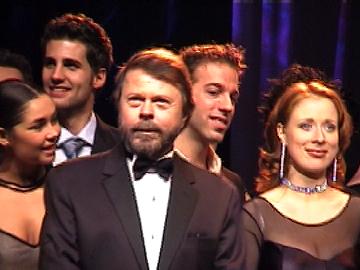 Björn and Phyllida will also be thanking our fabulous, fabulous cast, our wonderful musicians, everyone else in this production, Michael Kunze and Ruth Deny for their wonderful translation, (applause) and everyone at Stage Holding, the German production team, the London production team, and also thank you not only for the tent but making us steal the show here, the beautifully refurbished theatre, and thank you Björn and Benny for writing great songs in the first place!! (applause)

Björn: Well, now you have thanked everyone, I of course always knew that this would come to Hamburg! (laughter) Seriously, I had my doubts, I know that Phyllida and Judy and all the rest of them wanted to translate it to another language, but I had serious doubts about that. We discussed whether we should have the dialogue in German and the songs in English or... but in the end we decided for this, it was in a way an experiment but I'm very, very happy today that it works so well as I didn't know either how you in Germany would receive this. But tonight was a resounding success, now I'm really proud of you all, and grateful for you being such a great cast, thank you! (great applause)


---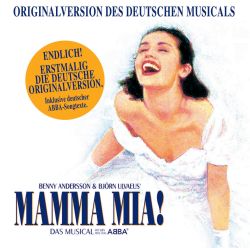 News:

You will find photos from Mamma Mia! in Stuttgart on our News page.

The German Mamma Mia! Live Cast CD (recorded in Hamburg, including German lyrics) was finally released on June 14, 2004.

Mamma Mia! is now running in the UK, Canada, Australia, USA, Germany (Hamburg and Stuttgart!), Japan, Korea and the Netherlands. Touring ensembles are playing in America and the UK as well and the next countries for new stagings will be Spain and Sweden.

The musical will have its Spanish premiere on November 10 or 11 at the Lope de Vega Theatre in Madrid. We will tell you the exact date as soon as we get more news. Catherine Johnson's script will be translated into Spanish by Juan Martínez Moreno and the lyrics by Albert Mas-Griera.

Mamma Mia! in Hamburg has been voted "Best New Musical Production" of the 2002/2003 season by the readers of the German "Musicals" magazine.
The new cast of Mamma Mia! in Hamburg looks like this:

| | |
| --- | --- |
| Sophie: | Peggy Pollow |
| Ali: | Carolin Opuszko |
| Lisa: | Ekaterini Tsapanidou |
| Rosie: | Jasna Ivir |
| Tanja: | Jutta Habicht / Annette Wimmer |
| Donna: | Carolin Fortenbacher / Annika Bruhns |
| Sky: | Jörg Neubauer |
| Eddie: | Christof Schmid |
| Pepper: | Kevin Schröder |
| Bill: | Ulrich Allroggen |
| Harry: | Cusch Jung |
| Sam: | Frank Logemann |
Ensemble: Svenja Andersen, Frances Chiappetta, Bernhard Forcher, Luke Marcell Giacomin, Thomas Klotz, Rhoda Kosten, Réka Kovács, Detlef Leistenschneider, Jasmin Madwar, Kristi Mancini, Sabine Meyer, Morgan O´Brien, Barbara Raunegger, Oliver Schaffer, Christoph Süsens, Michael Svensson, Ulrich Talle, Michael Toutountsidis, Susanne-Elisabeth Walbaum, Claudia Wauschke, Dani Wildprad, Annette Wimmer, Alexander Zamponi.

Mamma Mia! in Sweden will premiere at the Stockholm Cirkus on February 12, 2005. Tickets are already on sale and the theatre has now announced the actors:
Gunilla Backman (Donna), Nina Lundseie (Sofie), Sussie Eriksson, Charlott Strandberg (Rosie & Tanja), Reuben Sallmander, Bengt Bauler, Bill Hugg (Sam, Harry, Bill), Lisa Östberg, Jenny Miina (Lisa & Ali), Niklas Riesbeck (Sky) and Martin Redhe Nord (Sky's friend).
The script has been translated by Peter Dalle and the lyrics by Niklas Strömstedt.


---

Our member Kazu Nakashio sent us this report from Tokyo:

This is the first report on Mamma Mia! in Japan as it started yesterday. The first thing I must comment is its "quiet start". The Shiki Theatre began its previews for members a few days ago. One of my friends went to see it and found that 60% to 70% of the seats seemed to be given away to customers and shareholders of sponsors such as Dentsu, several TV companies or JR (Japan Railways). The remaining tickets were sold to musical fans who are in most cases well aged ladies. Real ABBA fans are, to my regret, only a minority.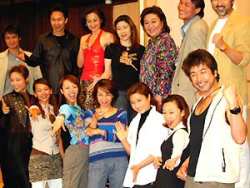 I am rather disappointed at Japanese TV stations which didn't supply any ABBA special before the Mamma Mia opening. There are currently two programmes scheduled as follows. One is a Mamma Mia special by Nihon TV on December 14 and the other is "Pops in 70's special" by NHK which deals with ABBA.

A Japanese version of "From ABBA to Mamma Mia" has been released in the Japanese market as you will know and the Mamma Mia CD is re-released with a bonus: customers have the right to apply for free Mamma Mia tickets.
Now I'd like to comment about Mamma Mia itself. First of all I must say that I couldn't get any tickets for either preview or first day. Instead I could get Dec. 15th, 23rd and 28th. So the following infos originate from my friend, comments on a Shiki Theatre bulletin board and a Japanese ABBA fan bulletin board.

As I wrote previously, most of seats were occupied by ordinary people who are invited by sponsors free of charge. Maybe many of them even didn't know ABBA. However the younger generation in their 20s said that they felt quite fresh listening to the ABBA sound and went to a record shop as soon as the musical was finished to buy an ABBA CD. Benny didn't come to Japan to my disappointment.
Regarding the Japanese version of the songs, my friend told me that she felt quite natural. Maybe it was because the orchestra was too loud and you were not able to hear the actresses' and actors' voices well. The actors seemed to have danced all right and the actresses' vocals were nice.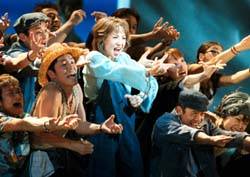 The big difference between preview and premiere was, according to my friend, the presence of many mass media and TV world people. Media guys were holding TV cameras, interviewing people in a long queue waiting in front of the theatre etc. Again, many tickets seemed to be delivered to customers of sponsors but this time audiences were well known TV commentators, actresses and journalists. I'm sure they have been influenced by this nice musical and tell about it in their TV programs. This way Mamma Mia fever will spread step by step next year. Björn didn't come to Japan. Japan seems to be far away from Sweden.

To conclude my first report of Mamma Mia in Japan, my impression is that more and more people will know ABBA's sound from now on and they will become new ABBA fans triggered by this nice musical.


---
? (The next musical)
Benny & Björn are thinking of writing another musical and they said it could probably be 'something for children in Swedish'. We will keep you informed.